Feb 16, 2015 08:49

If you show someone a photo they expected to see, they go "Yea, Yea, that's what I thought." And then they turn away and give it no more thought. But what if you show them the unexpected?

Jan 31, 2015 19:30

Paris Before Valentine (13 กุมภาฯ) ความหลงใหลในภาพยนตร์ Mood Indigo ได้นำอดีตนักศึกษาวิชาสถาปัตย์ผู้ผันตัวมาอยู่หลังเลนส์มุ่งสู่กรุงปารีสเพื่อไขความลับที่ทำให้เมืองนี้มีเสน่ห์จนต้องค้นหา

Jan 30, 2015 08:49

Street Photo Thailand Workshop 2015 เปิดรับสมัครแล้ว! พบกับเนื้อหาแบบเข้มข้น เจาะลึก ก้บการถ่ายภาพแนว Street Photography นำโดยวิทยากรที่มีประสบการณ์ Tavepong Pratoomwong และ Akkara Naktamna

Jan 24, 2015 10:51

เมื่อเริ่มถ่ายภาพบางภาพกลับมาแล้วมันมองดูเหมือนใบหน้า เริ่มต้นด้วยอารมณ์ขัน จากนั้น เริ่มมองหารูปทรง แสงเงา และเลือกจังหวะมุมมองที่เหมาะสม สร้างสรรค์งานในโครงการนี้ออกมา

Jan 07, 2015 23:43

We're pleased to announce that Sirima Chaipreechawit (PAhparn Sirima) becomes a new member of Street Photo Thailand by invitation which she is the second one of 2014 (first one is Tavepong).

Dec 12, 2014 19:08

The images in this collection represent his interests in the relationship of geometric structures, lines, and human in the urban landscape...
We are...
---
For the very first time, 11 street photographers, including 7 established names from Street Photo Thailand and 4 masters, come together to create a series of refreshing street photographs that focus on sharp ideas and the courage to create something different. This group aims to promote and elevate Thai street photography to both national and international levels
Read more...
Featured Photographer
---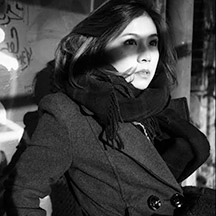 Sirima Chaipreechawit was born in Bangkok, Thailand in 1988 Her photography has been originally created from her passion in black and white. She has been fascinated by the path through the streets and alleys that allowed herself to be fully expressed. She always travels and tells stories of what she saw through the nature of her photography. In each of her expeditions, she would be lost among her emotional self, places and people she met along the way. In the midst of that moment, her profound creativity would be created and produced a powerful identity in her photography, in the way that has always been described by her faithful audience...
NO[W]HERE MAN
Gallery 1
LONG LONG YALA
Street of the Month
---