Jan 30, 2015 08:49

Street Photo Thailand Workshop 2015 เปิดรับสมัครแล้ว! พบกับเนื้อหาแบบเข้มข้น เจาะลึก ก้บการถ่ายภาพแนว Street Photography นำโดยวิทยากรที่มีประสบการณ์ Tavepong Pratoomwong และ Akkara Naktamna

Jan 24, 2015 10:51

เมื่อเริ่มถ่ายภาพบางภาพกลับมาแล้วมันมองดูเหมือนใบหน้า เริ่มต้นด้วยอารมณ์ขัน จากนั้น เริ่มมองหารูปทรง แสงเงา และเลือกจังหวะมุมมองที่เหมาะสม สร้างสรรค์งานในโครงการนี้ออกมา

Jan 07, 2015 23:43

We're pleased to announce that Sirima Chaipreechawit (PAhparn Sirima) becomes a new member of Street Photo Thailand by invitation which she is the second one of 2014 (first one is Tavepong).

Dec 12, 2014 19:08

The images in this collection represent his interests in the relationship of geometric structures, lines, and human in the urban landscape...

Dec 10, 2014 22:33

We're pleased to announce that Tavepong has been awarded the winner of Miami Street Photography Festival 2014. His works have been displayed in the festival since 4-7 December 2014.

Dec 04, 2014 19:05

Sometimes I like to make photos like that so they can challenge the viewer, and force them to look at photos with information to figure out the photos without information, which leads to deeper understanding.
We are...
---
For the very first time, 11 street photographers, including 7 established names from Street Photo Thailand and 4 masters, come together to create a series of refreshing street photographs that focus on sharp ideas and the courage to create something different. This group aims to promote and elevate Thai street photography to both national and international levels
Read more...
Featured Photographer
---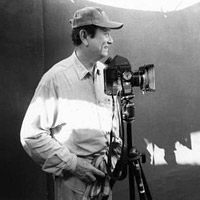 Surat Osathanugrah had several exhibitions and books about his perspective of Bangkok. He has had his work exhibited at numerous galleries in Thailand and around the world.
Gallery 1
Street of the Month
---