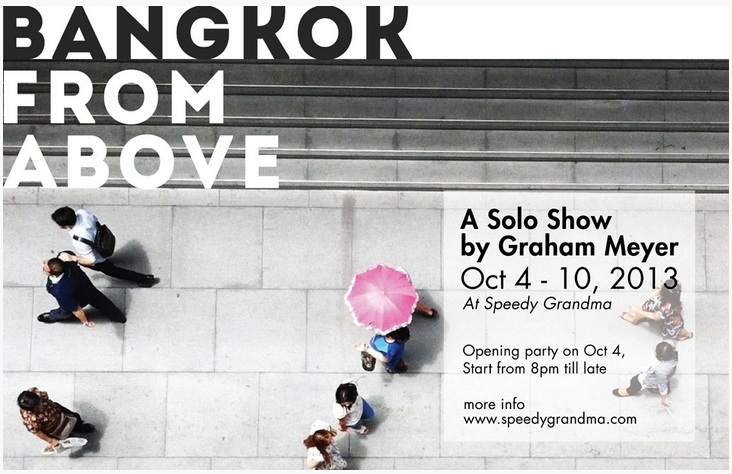 Bangkok From Above By Graham Meyer
Bangkok From Above
By Graham Meyer
4 October – 10 October 2013
A Photography Solo Exhibition
Opening party : Friday 4 Oct 2013 from 8 pm until late
At Speedy Grandma Gallery
This work aims to emphasize how insignificant we think other people's lives can be and how self focused humans are by habit. In the beginning, we feel superior and/or unaware of recognizing the chaotic and meaningless shiftings of life. As we progress, we begin to sense that we also belong to a natural scheme or grand design.
Later, we realize how suffocating these expectations can be, framed in a logical and predefined pattern, a condition from which we want to escape. Becoming a flying observer is a way to wisdom and positive detachment from human individualistic motivation.
These photographs were purposely put into squares to cause a sense of voyeurism and restraint. Like looking through a keyhole the viewers may only see one focal point and lose their peripheral vision.
I chose Bangkok for this exhibition because it's a city where spontaneity and disorganization are customary. The lack of laws allows for people's more animalistic side to emerge. However, when viewing it from above the hierarchy becomes much clearer, social classes are strongly pronounced, and the chaos becomes order.