"A Road to Paris" 2nd Exhibition of Street Photo Thailand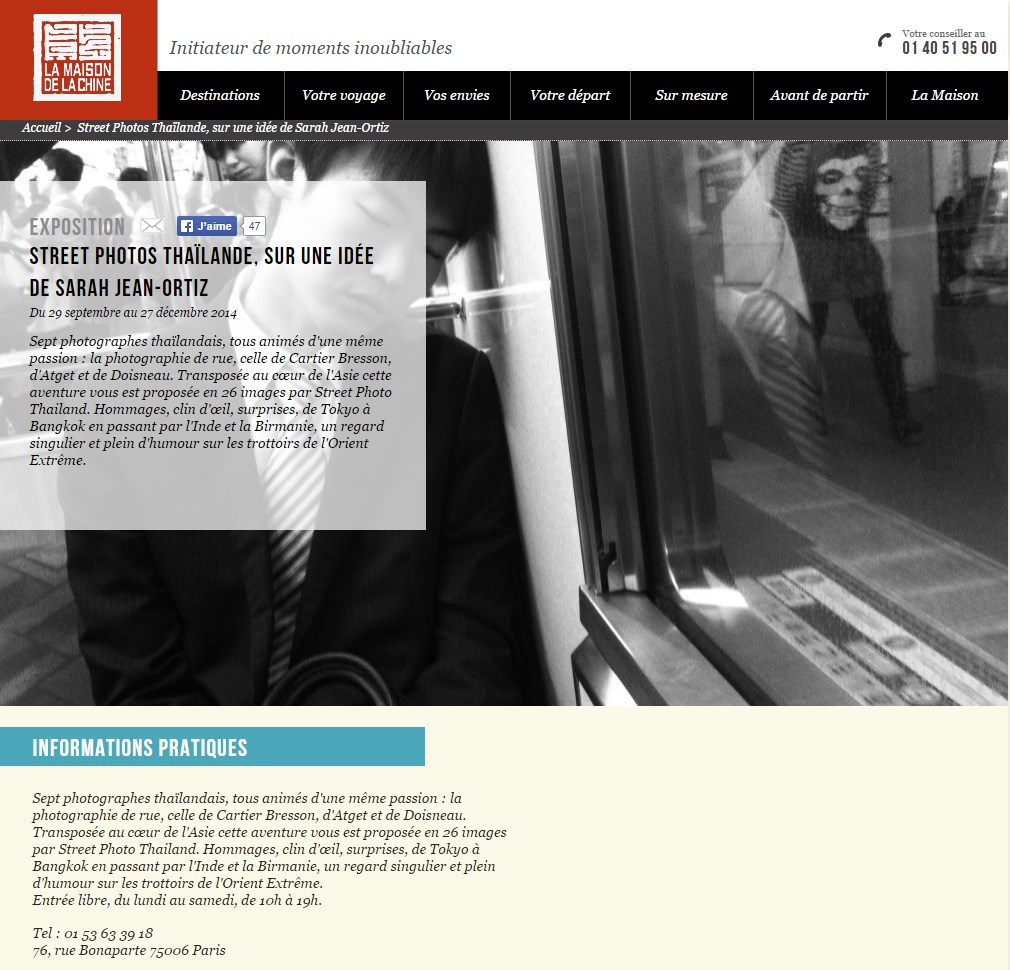 Street Photo Thailand กำลังจัดนิทรรศการแสดงภาพถ่ายแนว Street Photography ที่ประเทศฝรั่งเศส ในชื่องาน 'A Road to Paris' นิทรรศการครั้งนี้คัดเลือกผลงานโดย Curator ชาวฝรั่งเศส Sarah Jean-Ortiz จัดที่ Maison de la Chine ใจกลางมหานครปารีส งานมีวันที่ 7 ตุลาคม จนถึงเดือนมกราคม 2558
รายชื่อช่างภาพที่จัดแสดงงาน
Akkara Naktamna
Chatchai Boonyaprapatsara
Nakarin Teerapenun
Naruepol Nikomrat
Noppadol Weerakitti
Sarawut Taeosot
Tipawan Gatesomboon
Vinai Dithajohn
Visit Kulsiri
Our second exhibition "A Road to Paris" will have an opening ceremony today (Tuesday Oct 7) at Maison de la Chine, Paris. The exhibition is organized and curated by Sarah Jean-Ortiz. Thank you Sarah for making it happen.
Sarah Neiger is a photo editor and organizer of art exhibitions who has a rich experience in Asia and China and a longstanding passion for photography. She started her career as filmmaker and producer, shooting documentary films in China in the early nineties. She is the autor of the first ever film made about the Rock'n Roll scene in China, which won worldwide appreciation and awards. In 1995, she turned to press work, and became photo editor for many French newspapers and magazines, including the daily Liberation, by far at this time the stronghold of avant-gard press photo editing. Based in Beijing, China, from 2000 to 2005, she created a photo agency, "Traffic d'images", realizing worldwide scoops during the SARS epidemy, which she lived on the ground. She works also as head of the photo department in Chinese magazine press (Figaro Madam in Chinese).

She worked as curator or the "Rencontres d'Arles" in 2003 , one of the most influential photo festivals in the world, as well as for many others exhibitions in France and in China. During this period, the contributed greatly to promote new chinese photography on the world scene, helping many of the most known Chinese photographs to make their debut abroad. Her unique experience made of her one the best experts in Chinese contemporary photography. She is a regular collaborator of "Maison de la chine", leading travel and cultural agency in France , who organizes regularly art exhibitions.